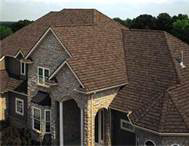 You work hard to keep a roof over your head. We work hard to give you the best roof possible.
We use the highest quality materials available. And we perform high quality workmanship. We believe in keeping your life simple by doing our work quickly and ethically.
Does your home need a new roof? We'll send an experienced professional to look at your roof and answer your questions. If your roof needs replacing, whether from storms, natural disaster, or age, we can get the job done fast. And we get it done right!
We hold our craftsmanship and materials to the highest standards. When you choose roofing from Mountain View Exteriors, you choose security for your home for generations.
We take roofing to a higher level. Our roofing materials are engineered to perform in tough conditions. Our roof over your head gives you comfort, protection, and your peace of mind. Not only that, but our transferable warranty is a leader in the industry.
Mountain View Exteriors Installs Asphalt & Metal Roofing
We ensure you get the highest quality materials and installation. Also, our roofing comes in many colors to match your family's style.
Founded in 1905, Certainteed corporation manufactures more building materials than any other in North America. Homeowners across the nation prefer the rugged dependable performance that only Certainteed can offer.
We pay close attention to every detail of the installation of your new roof. And you can rest assured our professional crews do top quality work. In addition to a high level of professional roofing skills, they will also do a total clean up of your yard daily. And they'll do a thorough clean up upon job completion. Let us put our 40+ years of experience to work for you.
The Mountain View Exteriors Roofing Replacement Team is a certified SELECT ShingleMaster™
Because of this, we must meet exceptionally high standards. That's great news for you and your family!
Look at what we have to offer:
Our Roof Installers are highly trained and get regular testing
A SELECT ShingleMaster's must thoroughly understand all the roofing materials. This means when the roofing consultant comes to your house all your questions get answered.
Mountain View Exteriors is insured and bonded. So you can let us do the work while you are worry-free
We have an established history with 35 years in the roofing business
We love our customers. And we maintain a customer satisfaction rating of 4 or higher (on a 5 point scale). See our ratings at HomeAdvisor.com.
We get regular, up-to-date training on the latest roofing technology and requirements. That means our quality stays competitive
Our Strong Warranty with CertainTeed's 5-STAR coverage makes sure CertainTeed stands behind the workmanship of your roof for 25 years. Even if our company goes away.
We offer Fully Transferable Coverage in case you decide to sell your home