We Work Hard To Put a Roof Over Your Head
Mountain View Exteriors Works Hard To Put a Roof Over Your Head
MOUNTAIN VIEW EXTERIORS
Roofing Replacement and Installation & Gutter Installation for the greater Knoxville, Tn area
40+ Years Experience
Mountain View Exteriors is Raising the Roof with Higher Standards
Mountain View Exteriors is in the top 1% of the roofing profession and has met the most stringent requirements in the roofing industry
Our Strong Warranty with CertainTeed's 5-STAR coverage makes sure CertainTeed stands behind the workmanship of your roof for 25 years. Even if our company goes away
We offer Fully Transferable Coverage in case you decide to sell your home
We have an established history with 35 years in the roofing business
We offer financing at a low rate through GreenSky, a trusted Goldman Sachs Company
We get regular, up-to-date training on the latest roofing technology and requirements. That means our quality stays competitive
Quality materials with lots of color and texture options. We are a top roofer with Owens Corning & CertainTeed. This gives you choices from both of their wide selections
East Tennessee's Top Choice for Roofing
Mountain View Exteriors proudly accepted the Governor's Award from Certainteed in 2021. Only a handful of roofers in all of North America have achieved this status.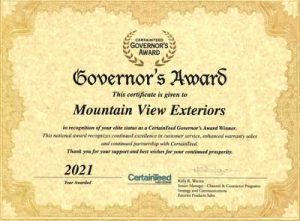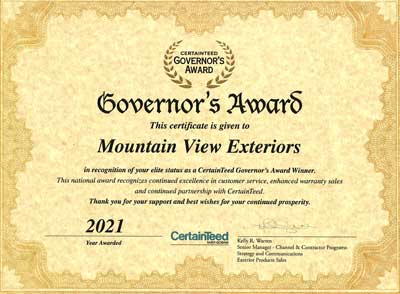 More reasons to choose MOUNTAIN VIEW EXTERIORS ROOFING TEAM:
Our Crews are CERTIFIED SELECT SHINGLEMASTER™ Teams
We are a PREFERRED CONTRACTOR With Owens-Corning     
Customers just like you give us RAVE REVIEWS – 4.9+ stars!!!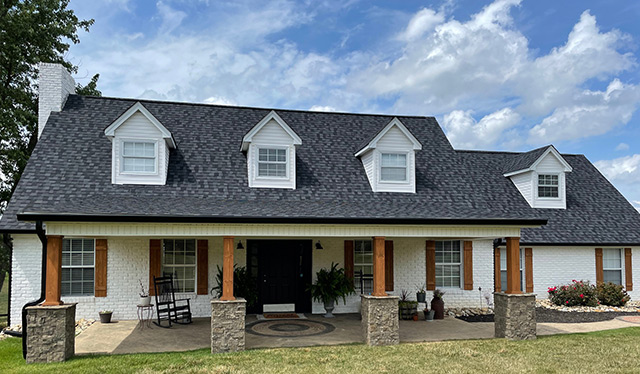 Thanks, East Tennessee, for trusting us to keep your home and family safe!
Need a little help with the money end of things? We've partenered with GreenSky Finance to offer you great rates.
What Our Customers Say About Us
370+ Reviews and counting!
Julie Mills
September 25, 2023
After engaging a few different companies for roof replacement, we chose Mountain View Exteriors for a variety of reasons. Brad made an excellent impression, being on-time and well prepared for our consultation. He shared a variety of options and gave us several factors to consider when making a decision. After our existing roof needed multiple repairs due to poor craftsmanship, we appreciated that having a warranty that guaranteed craftsmanship was an option. The crew that did the installation was led by a gentleman who was considerate and thorough. They worked 12+ hours each day to ensure the job was finished in the time quoted. Overall it was an exceptional experience!
Bobby Shultz
September 25, 2023
Exceptional service! Highly recommend their work. Very timely and do high quality work. They took their time to ensure work was done right and were very thorough in cleanup!
Courtland Bernard
September 20, 2023
I received a few roof quotes l, but Brad and MVE stood out. He came to my home at a time convenient to me and spent a lot of time explaining everything to me. He was very responsive throughout our decision making process and held to the date he gave us. His prices were competitive and the roof was done in just 1.5 days and looks great! Highly recommend.
Chris Owen
September 18, 2023
Great company to work with. Fast response great work. Did a metal roof for me. Looks amazing and they cleaned everything up very good. I will use them again for other projects!
Caitlin Barnes
September 18, 2023
10/10 recommend! Brad is excellent at communicating with his clients. His guys worked quick, did an incredible job and even took extra care to keep my landscaping from getting damaged in the process. I'm incredibly happy with the work they did.
Tyler & Nickky VanderHorst
September 14, 2023
High expectations exceeded… across the board. Brad and the crew at Mountain View Exteriors went above and beyond in all aspects of our full roof replacement. From the start, I appreciated Brad's time, availability, responsiveness, and no-pressure approach. Having previously obtained quotes from four other contractors, my experience with Brad was at the top. From quote to completion, communication remained constant. Pricing was more than competitive. Compared to some others, it was on the lower end and reflected the value-based approach I was seeking: not the cheapest; not the most expensive; simply the best value for our dollar. What I appreciated most was his approach to simply doing things the right way. I had working knowledge of the process and did my due diligence with different product lines, upgrades, and features. With Brad, all of the extras to do the job right came standard from the start; not custom add-on for a premium as with others. I truly felt he treated my home like his own. Finally, I'd like to recognize the crew who worked on our home. Our roof is certainly on the larger and more difficult/complex end of the spectrum. The crew worked sun-up to sun-down to get the job done in a timely manner. Several of my neighbors commented on the crew's strong work ethic. In addition, I had a neighbor that had a small roof issue and found it near impossible to get someone out to make the repair. The foreman of crew sacrifices some of his valuable time to assist my neighbor and quickly complete the repair, which I greatly appreciate. Admittedly, I'm somewhat hard to impress and do not give reviews out unless I have been more than impressed or extremely disappointed with an experience. As stated in the opening, working with Brad and Mountain View Exteriors has more than exceeded my expectations. I would highly recommend their services for your next exterior project, especially roof repairs and replacements.
Teri Greer
August 29, 2023
Mountain View delivered splendid work on replacing our roof. Brad was very knowledgeable and helpful with all the information we needed and had a fair price point . Thank you for taking such good care of us. Highly recommend.
Ilona Smith
August 11, 2023
I can't speak highly enough of Mountain View. From the beginning, Brad was thorough and helped walk through the product and process. He laid out pros and cons and was zero pressure. The crew arrived and were right to work. They took care of my property to ensure protection to the surroundings and were quick to clean as they went. I would use them again
Leigh Corbett
August 3, 2023
What a pleasure working with Brad. He is knowledgeable, professional, and works so hard to get your project done in a timely manner! I don't say this often, but he is simply amazing to work with! Thank you Brad! ⭐️⭐️⭐️⭐️⭐️
Janet Drass-Talbot
July 10, 2023
I researched many roofers before I found Mountain View Exteriors. Brad , Junior and his crew not only replaced my roof, at they replaced two of my neighbors after I recommended them. Did a great job and for all of us and provided me with the insurance information I requested from them.
Home Advisor Reviews

"Great job with new roof and guttering. Great pricing. Knowledgable, long history of providing service. Guarantee is great. Definitely highly recommend." –
I usually hate writing reviews but my experience with Mountain View Exteriors was so good that I am happy to write this one. Great service! They replaced my roof in one day! They left no mess for me to clean up, not a single nail. They were very friendly and very professional. I could not be more happy with the service. I would highly recommend this company and they will be the first call I make if I ever need anything again.
Mountain View Exteriors were extremely efficient and had our roof on in just a few hours. We are so happy with their attention to detail and clean up! Will highly recommend to anyone in need of a new/repair roof.
Schedule a Free Consultation
We can also take overhead drone footage.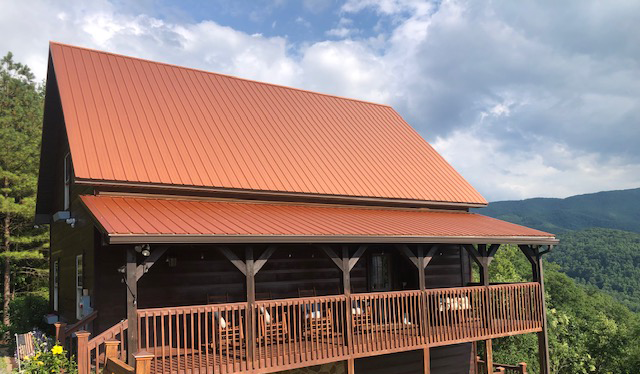 Knoxville
Sevierville
Morristown
Maryville
Newport
Mascot
Dandridge
Gatlinburg
Rockford
Pigeon Forge
Kodak
White Pine
Bean Station
Blaine
Seymour
Alcoa
Townsend
Lenoir City
Knoxville
Sevierville
Morristown
Maryville
Newport
Mascot
Dandridge
Gatlinburg
Rockford
Pigeon Forge
Kodak
White Pine
Bean Station
Blaine
Seymour
Alcoa
Townsend
Lenoir City
Loudon
Oak Ridge
Clinton
Andersonville
Maynardville
Sharps Chapel
Corryton
Jefferson City
Rutledge
Loudon
Oak Ridge
Clinton
Andersonville
Maynardville
Sharps Chapel
Corryton
Jefferson City
Rutledge