Asphalt Shingles and Metal Roofing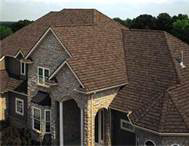 Mountain View Exteriors is East Tennessee's top choice for a Knoxville Roofing Contractor (and surrounding areas). You work hard to keep a roof over your head. We work hard to give you the best roof possible.
Using the highest quality roofing materials available, our expert roofing crews perform superb workmanship. We believe in keeping your life simple by installing your new roof quickly and ethically.
Home Roofing Installation Done Right—Guaranteed
Does your home need a replacement roof? We'll send an experienced professional to inspect your roof and answer your roofing questions. If your roof needs replacing, whether due to storms, natural disaster, or age, we can replace your roof quickly. And we get the job done right!
We hold our craftsmanship and materials to the highest standards. When you choose roofing from Mountain View Exteriors, you choose overhead protection for your home for generations.
We take roofing to the highest level. Our roofing materials are engineered to perform in tough conditions, whether your choose an asphalt roof or a metal one. Our roof over your head gives you comfort, protection, and peace of mind. Not only that, but our transferable warranty is a leader in the industry.
Do you want Asphalt Shingles or Metal Roofing?
We ensure you get the highest quality roofing materials and installation. Also, our roofing comes in many colors to match your family's style.
We pay close attention to every detail of your new roof installation. And you can rest assured our professional crews do top quality work. In addition to a installing your roof with the highest level of professional roofing skills, they will also do a total clean up of your yard daily. And they'll do a thorough clean up of all roofing materials and debris upon job completion. Let us put our 40+ years of experience to work for you.
CLICK THE BUTTONS BELOW TO LEARN MORE! OR CALL 865-465-8056